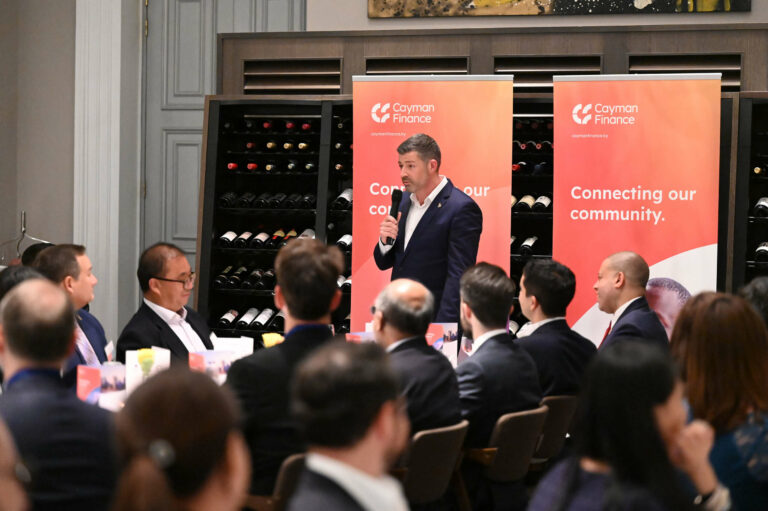 George Town, CAYMAN ISLANDS, Cayman Finance has demonstrated its commitment to promoting the financial services industry on the international stage by hosting a stakeholder event in Singapore, in partnership with the Ministry of Financial Services and Commerce.
The event, which took place at Flutes restaurant at the National Museum of Singapore on May 18th, comes on the heels of a well attended event in London just over a week ago. More than 60 guests, including representatives from Cayman Finance member firms and their clients, as well as representatives from the British High Commission (Singapore), gathered to discuss the latest developments and opportunities in Cayman's financial services sector. The evening served as an opportunity for the Cayman Islands delegation to connect with member firms in Singapore, business leaders, and other partners in the industry.
Cayman Finance CEO Steve McIntosh gave welcome remarks, highlighting the importance of engaging with international stakeholders. "As a premier global investment hub, the Cayman Islands has a network of service providers, partners, and friends that spans the globe. Engagement with this extended community is a vital part of our continued success as a jurisdiction. As our ties with other financial centres grow and evolve, we look forward to more frequent missions and events, particularly in this very important region."
Hon. Andre Ebanks, Minister for Financial Services and Commerce, in his keynote address, focused on the importance of connecting the Cayman community to communities overseas whereby our financial services products are offered and utilised. He said, "With high quality, well-regulated products which are supported by our world class professionals, the Cayman Islands is a global financial services centre of excellence and we need to ensure we work in positive collaboration with other centres of excellence for the benefit of our respective communities to thrive in this decade and beyond".
Gene DaCosta, Cayman Islands Government representative for Asia, gave remarks highlighting the benefits of doing business in the jurisdiction and the importance of the Cayman Islands Government establishing a physical presence in Asia. He said, "After an extended hiatus, due in part to Covid-19, the Cayman Finance event was a wonderful opportunity for the Government to reconnect in person, with long-standing friends of Cayman, trusted service providers and well-respected stakeholders in Asia. The event also afforded an opportunity to provide such persons with the latest developments from a Cayman Islands Government perspective, but also an invaluable opportunity for us to receive their feedback."
Overall, the event was a resounding success and demonstrated the commitment of Cayman Finance and the Ministry of Financial Services and Commerce to promoting the financial services industry on the international stage. With continued engagement and collaboration with international stakeholders, the Cayman Islands is well-positioned to maintain its status as a premier global investment hub.
To learn more about Cayman Finance and future international and local events, visit www.caymanfiance.ky or follow us on LinkedIn and other social channels.